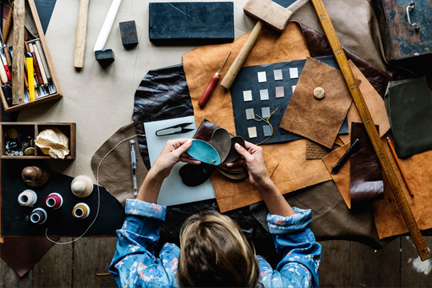 The Indian Leather Products Association (ILPA), established in 1987, is a premier representative body of manufacturers and exporters of leather and leather products across the country with head office in Kolkata and a Regional Office in Chennai.
ILPA works actively to bring together manufacturer–exporters and merchant-exporters of leather products of India on a common platform to stimulate growth and development of the leather sector.
It strives to develop and maintain a reciprocal relationship with professional bodies, import associations and the Chambers of Commerce abroad in order to support and promote export of leather products.
It takes an active step forward for its members by regularly undertaking market surveys/studies in foreign countries, organizing and participating in International and National Trade Fairs / Exhibitions, Workshops and Seminars.
ILPA being a non-profit making association, strives to provide a host of services and activities to the leather goods industry at very reasonable charges.
It also facilitates customized matchmaking between International buyers and member manufacturers of leather goods.
The Leather Goods Industry is a labour-centric industry where more than 30% of the workers are women and  the demand for skilled labour is considerable. .  ILPA takes great pride in providing training and skill-development to the underprivileged youth of rural Bengal and helps them with job placements within the industry.
Not many are aware that Kolkata is a major production hub of premium quality leather goods supplying to many renowned brands and retail departmental chains across the world. Almost all the major players are our members.
So the next time you holiday abroad, don't be surprised to find out that the awesome hand bag that you just had to buy from Prada, Gucci Marks & Spencer's, Clarks, Debenhams, Marc Jacobs or Coach turns out to be the one just produced in your own city backyard!!